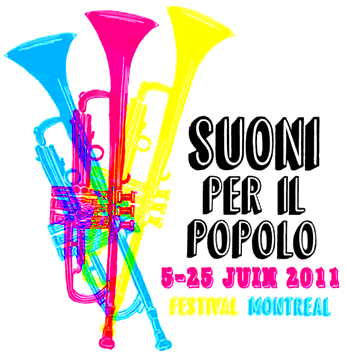 June is in full swing and music is taking ver the city – CKUT has linked up with
the Suoni Per il Popolo Festival to bring the concert hall to your radio.
MONTREAL SESSIONS: JUNE
Tuesdays from 3pm – 5pm will feature live recordings from the Suoni Per il Popolo Festival and live in studio guests
June 7: Live In Studio Performance by Nick Kuepfer and Volcano The Bear LISTEN!
June 14: Rebroadcast: Shalabi Effect, Stimmung, LISTEN!
June 28 Rebroadcast: Colin Stetson, Preterite, Keiji Haino, Hanged Up LISTEN!
REMOTE BROADCASTS FROM THE SALA ROSSA
We're taking the studio out for a few nights on the town to bring live music in our homes – come out to the show or listen to the radio live or after the fact through ckut's archives.
Monday June 20st 8pm – 1am: All the way from Sunny Alberta…..Weird Canada's Wyrd Fest presents a line up to make your ears hunger no more: Dreamcatcher, Dirty Beaches, Hobo Expanded Cult Band, Shortpants Romance, Lantern, D'eon, Headaches, Ultrathin, Duzheknew, The Friendly Dimensions (Concert starts at 8pm Sharp!!)
LISTEN!!!
Tuesday June 21st 9pm – 11pm: Master improvisers in the jazz scene Gerald Cleaver(drums), Craig Taborn(piano) and William Parker (double bass, double reeds) will be performing as Farmer's By Nature, who have just released an album on the Aum Fidelity Label entitled Out of This World. LISTEN!!
Wednesday June 22nd 9pm – 12am: CKUT's JAZZ EUPHORIUM Collective will hosting live from the Sala Rossa for
Peter Brotzman's FULL BAST TRIO: LISTEN!!
and
The Thing (Mats Gustagsson, Ingebright H.Flaten & Paal Nilssen-Love) with Joe McPhee start their set at 10:00pm LISTEN!!
INTERVIEWS WITH SUONI ARTISTS ON CKUT
British Born Palistinian lyricyst and conscious raiser Shadia Mansour on Venus June 9 LISTEN!

Kick ass Punk-rock literary -activist duo Mecca Normal on Kitchen Bang Bang Law June 14 LISTEN!